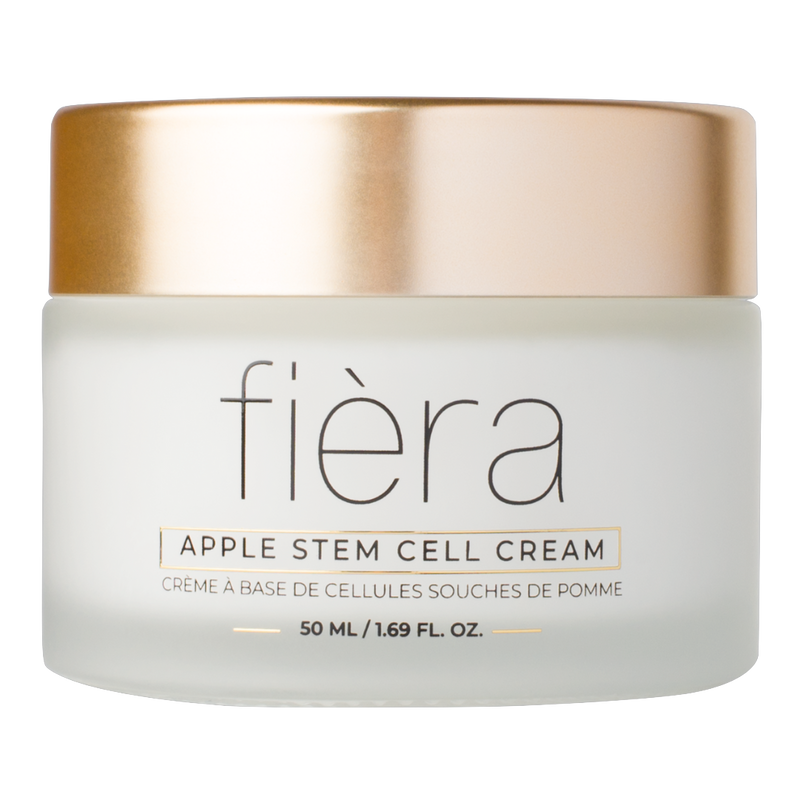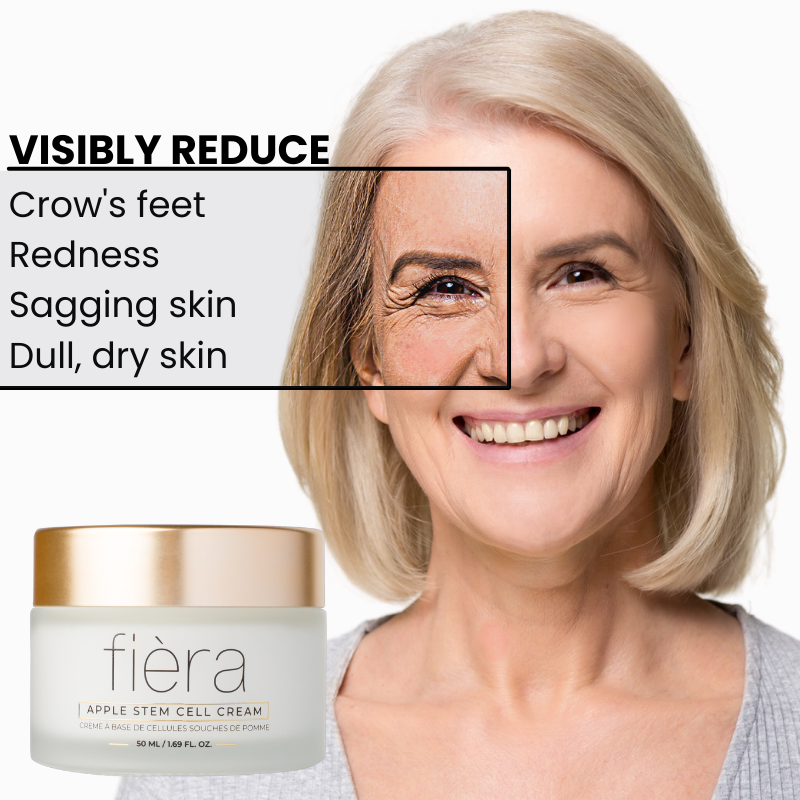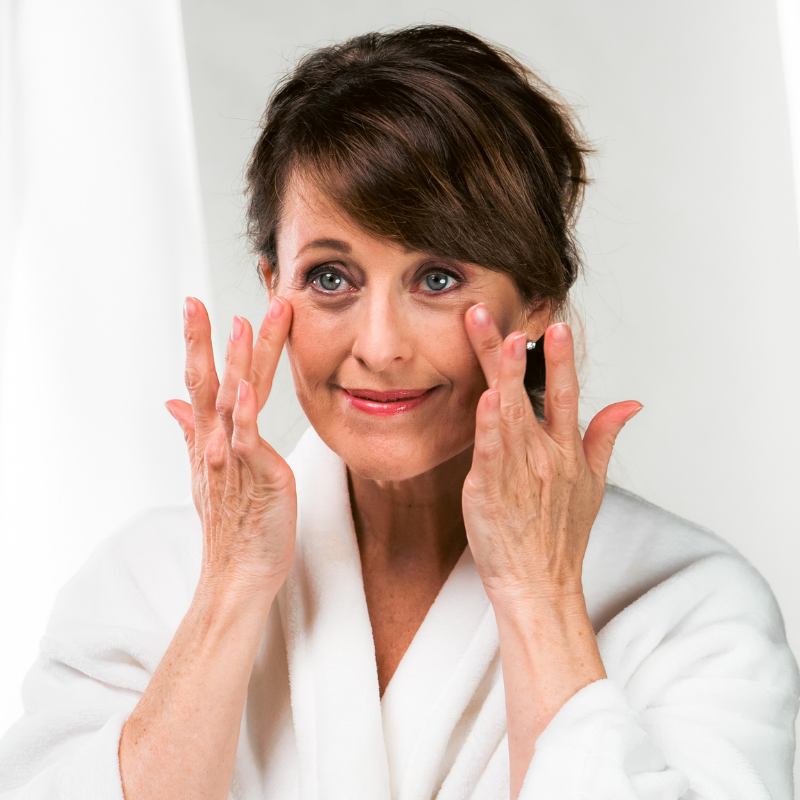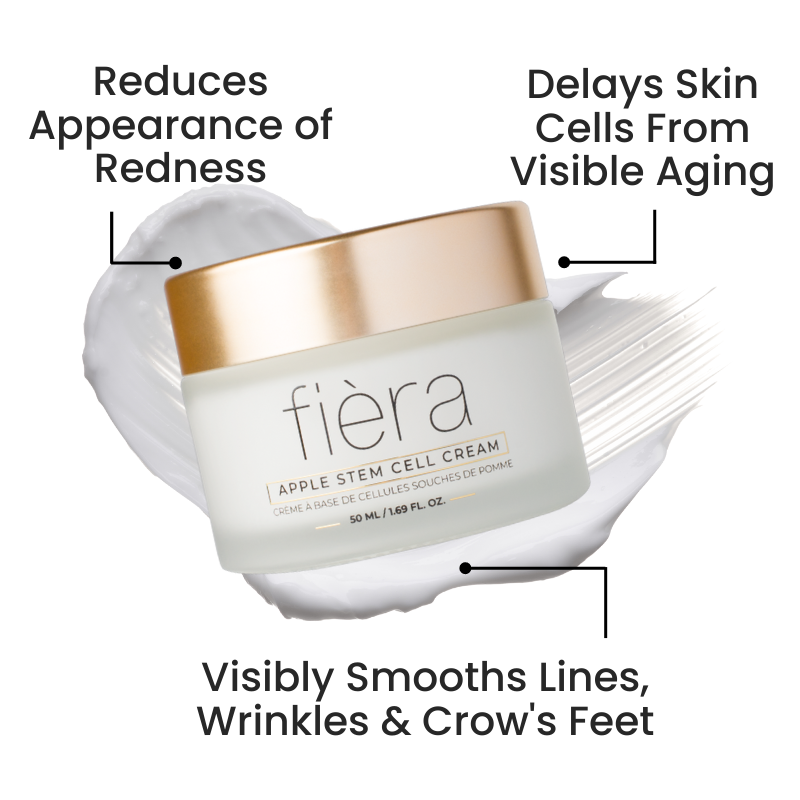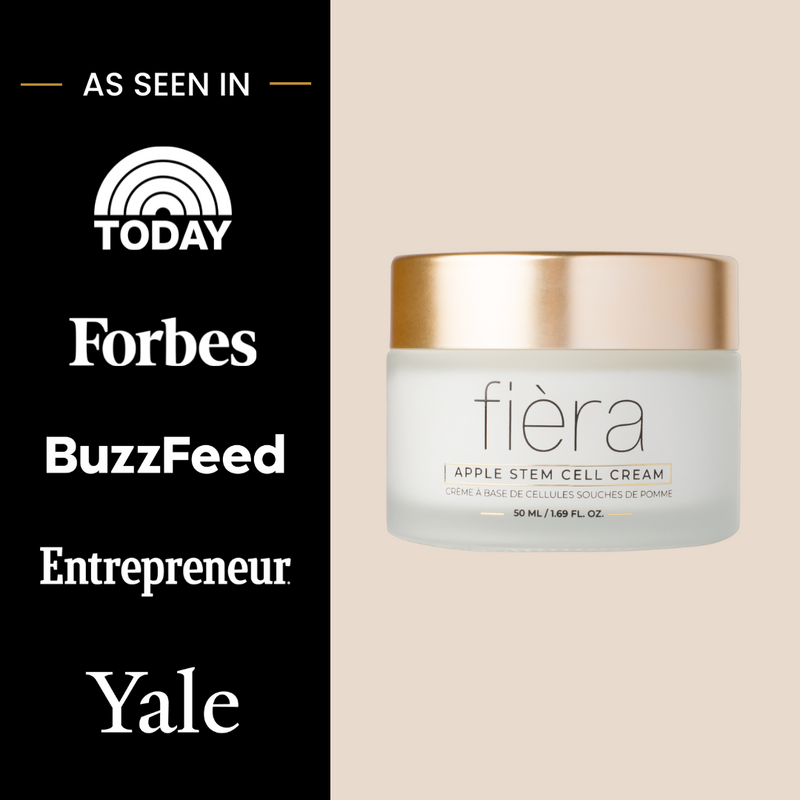 Formulated in the USA

Non
GMO

Cruelty
Free

Paraben
Free
THE FIÈRA DIFFERENCE
Skincare that actually works for mature skin, because it was designed for mature skin.
If as you've gotten older, you've also grown more skeptical about skincare, especially for a textured type of skin, you're not alone and you're certainly not crazy.
Many "mass market" beauty brands put revenue before results. They promote a generic "one-formula-fits-all-ages'' cosmetics line that unfortunately over promises and under delivers.
That's because mature skin requires a different formula than a 20-something. A cream that absorbs quickly on smooth youthful skin, might feel thick, greasy, and "sit" atop more textured skin. Not all creams are created equal, no matter how big the brand is. Fiera's Apple Stem Cell Cream works because it was designed for and tested on women over 40.
Mature skin doesn't have to look "mature" anymore.
SMOOTH & BEAUTIFUL RESULTS
Trusted and used by more than 225,000 women worldwide!
Patrice Verified Buyer
I am always skeptical buying different less expensive creams for my face. I used it 2 times a day and after 3-4 days I started looking at my face and thought I was looking smoother and fresher. I realized the only thing I was doing differently was using this cream.
Laurie Verified Buyer
I am 62 years old with skin like a 45? year old. It definitely is looking younger. I really think it has improved my skin texture, minimized my fine lines and wrinkles and moisturizes without feeling heavy. I liked it so much, I'm now using the Fiera stem cell serum too!
Terri B. Verified Buyer
I bought the Apple Stem Cell cream. It is wonderful. Very easy to apply with no residue feeling afterwards. My face feels soft and smooth. I do see some diminishing of fine lines after only 2-1/2 weeks. I will definitely buy again.

`

CORRECT & DELAY THE VISIBLE SIGNS OF AGING
IN ONE PRODUCT

A scientifically-backed way to look younger, longer.
As a breakthrough "3-in-1" solution for mature skin, Fièra's Apple Stem Cell Cream works as a proven anti-aging skin treatment, a "super moisturizer", plus an effective eye cream, all in a single premium product.
Because it's not just about looking younger, but looking younger longer!
Mass market cosmetics are about "one-formula-fits-all-ages" and photoshopped cover photos. Fièra celebrates the beauty of aging, while also understanding that 40+ year-old skin does need special care. Both on the surface and "behind the scenes".
Which is why we combine restorative skincare ingredients and the latest in anti-aging science to not only visibly delay the signs of aging, but reduce their appearance at the same time. By increasing cell turnover, you'll lighten and fade the appearance dark spots, reduce wrinkles and fine lines, and restore your youthful glow!
ONE AGE FITS ALL CREAMS
VS FIÈRA'S WOMEN OVER 40 STEM CELL CREAM
Mass market
one age fits all creams
Fièra's first-ever
Over 40 Stem Cell Cream
Ingredients
Mass market

No anti-aging ingredients, often just a moisturizer
Fièra Stem Cell Cream

Swiss apple anti-aging stem cells which visibly correct the signs of aging and keep skin looking healthy
Formula
Mass market

Mass market formula made for younger, smoother, "wrinkle-free" skin
Fièra Stem Cell Cream

Formulated specifically for 40+ year-old skin that has more texture, dryness, dark spots, or wrinkles
Feel
Mass market

Thick, heavy, and greasy feeling formula
Fièra Stem Cell Cream

Feels light and leaves skin glowing and radiant
Absorption
Mass market

Absorbs slow on textured, mature skin
Fièra Stem Cell Cream

Absorbs instantly and "plumps the skin" so your makeup goes on flawlessly
Fragrance
Mass market

Overwhelmingly strong fragrance
Fièra Stem Cell Cream

Gentle and fragrance-free
Anti-Aging
Mass market

No hyperpigmentation-correcting ingredients for dark spots, uneven skin tone, or undereye circles
Fièra Stem Cell Cream

Potent all-natural oils and antioxidants which fade the appearance of dark spots, even skin tone, and brighten under eyes
Gentleness
Mass market

Chemical additives which can sting eyes
Fièra Stem Cell Cream

Gentle enough to be used as an eye cream to also reduce crow's feet
How to use /
tips & tricks
Step 1:
WASH & PREP
For best results and maximum moisture retention, you always want to apply to a washed and clean face. This allows the stem cell cream to be absorbed even faster. If using a serum, like our antioxidant Citrus Stem Cell Serum, apply it first and allow one minute for it to absorb.
Step 2:
Gently Apply
Gently apply a pearl-sized amount onto the face, neck, and other problem areas in an upward-stroking motion. This is a premium product so while it's not thick or greasy, a little does go a long way.
Step 3:
Finish Your Look
This stem cell cream absorbs and dries quickly so you don't have to wait long to apply sunscreen and makeup. With newly hydrated, smooth, plump skin now underneath, your makeup goes on flawlessly and your face glows.
Step 4:
Enjoy Ageless Beauty
Go about your day knowing you're correcting the visible signs of aging and keeping your skin healthy over time. Enjoy ageless beauty and all the "you look so good!" compliments.
Active skin care ingredients
Scientifically proven
ingredients for tighter, brighter, and
younger-looking skin…
Delay aging

Swiss Apple Stem Cells

These powerful plant stem cells have been scientifically proven to promote healthy skin. They visibly reduce existing signs of aging while keeping your skin looking healthy longer.

Diminish the appearance of wrinkles & fine lines

Hyaluronic Acid

After the age of 20, we start losing collagen. Hyaluronic acid helps visibly plump and firm your skin while visibly reducing wrinkles and fine lines.

Hydrate & tighten

Glycerin

This "super moisturizer" attracts up to 1000x its weight in water! Which means maximum hydration and tighter, firmer, more healthy looking skin.

Visibly even skin tone

Sea Buckthorn Oil

Sea buckthorn oil is a nutrient rich natural remedy that's been used for centuries. It has been shown to visibly even your skin tone for a brighter complexion.

Smooth & soften

Shea Butter

High in fatty acids, shea butter has both soothing and anti-aging properties. It makes rough, textured, mature skin feel smooth and silky soft while also reducing the visible signs of aging.

Visibly Restore

Vitamin E

Vitamin E is an antioxidant shown to have major benefits for skin health and helps boost a youthful looking complexion.
View All Ingredients
Fièra Apple Stem Cell Cream
X
Purified Water, Macadamia Ternifolia Seed Oil, Caprylic/Capric Triglyceride, Glycerin, Butylene Glycol, Stearic Acid, Malus Domestica, Cetyl Alcohol, Glyceryl Stearate, Hyaluronic Acid, Butyrospermum Parkii (Shea Butter), Magnesium Aluminum Silicate, Lavandula Angustifolia (Lavender) Oil, Cupressus Sempervirens Oil, Sea Buckthorn Oil, Polisorbate 20, Phenoxyethanol, Caprylyl Glycol, Potassium Sorbate, Hexylene Glycol, Tocopherol Acetate (Vitamin E), Retinol Palmitate (Vitamin A).
HOW FIÈRA APPLE
STEM CELL CREAM WORKS
Phase 1:
Softness you can feel
Start your day with silky smooth and soft skin. If you wear makeup, your smooth skin will help it go on and stay on effortlessly. It's a difference you can see and feel instantly.
Phase 2:
Melt away the appearance of wrinkles and fine lines
Each day your skin cells get healthier and more hydrated. As it tightens and your skin "plumps", the appearance of wrinkles, fine lines, and crows feet are less visible and seem to melt away.
Phase 3:
Bright and beautiful even tone
Working behind the scenes with each application are proven ingredients to visibly brighten your eyes, fade away dark spots, and revitalize your youthful glow.
Phase 4:
Look younger longer
What seems like magic is just the modern miracle of skincare science. Using powerful stem cells daily, helps both correct the signs of aging and delay it entirely, so you look younger longer.
OUR BEST PRODUCTS FOR ALL AGES
Shop Fièra essentials. Browse our collection of best selling luxury products.
What Our
Customers Say
Here is what our customers had to say
about Fièra Products.