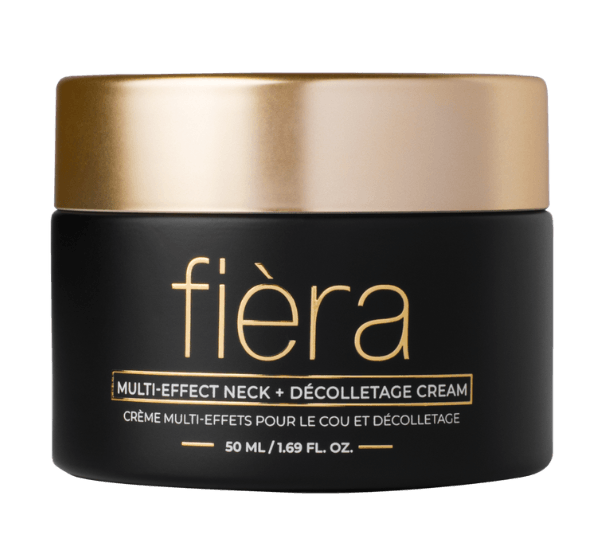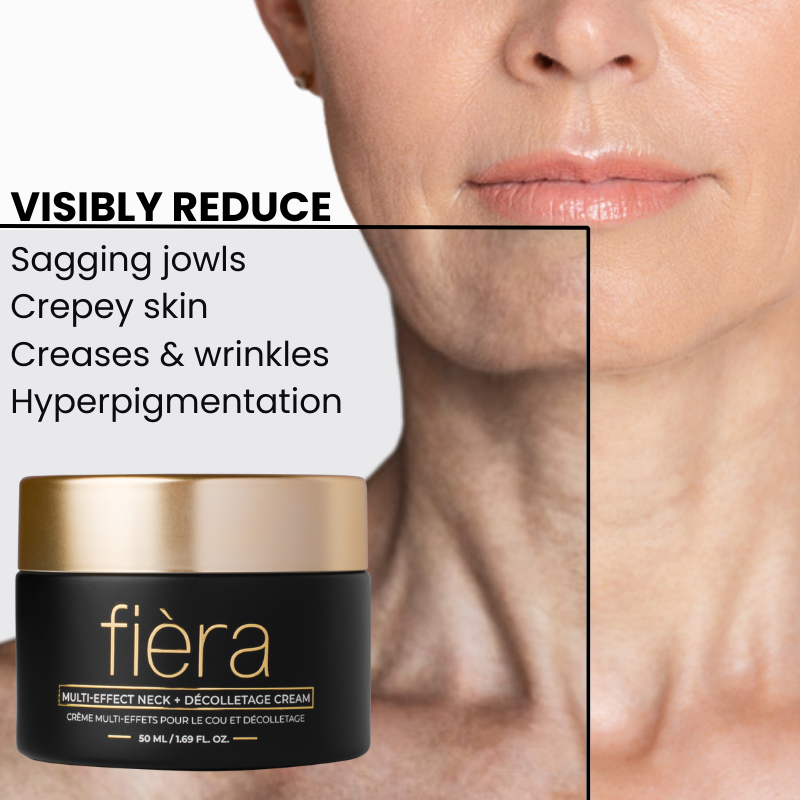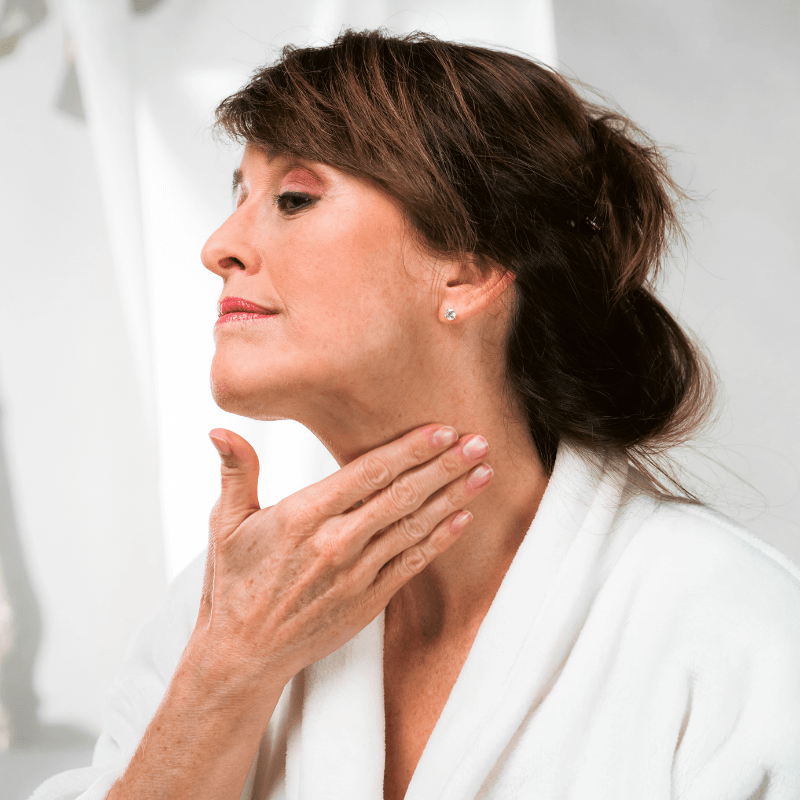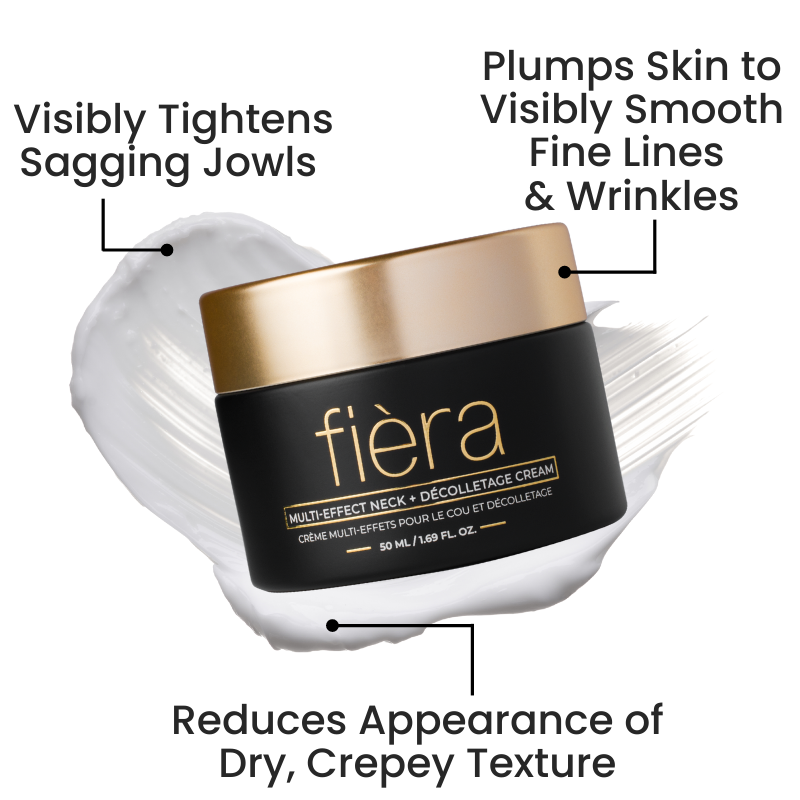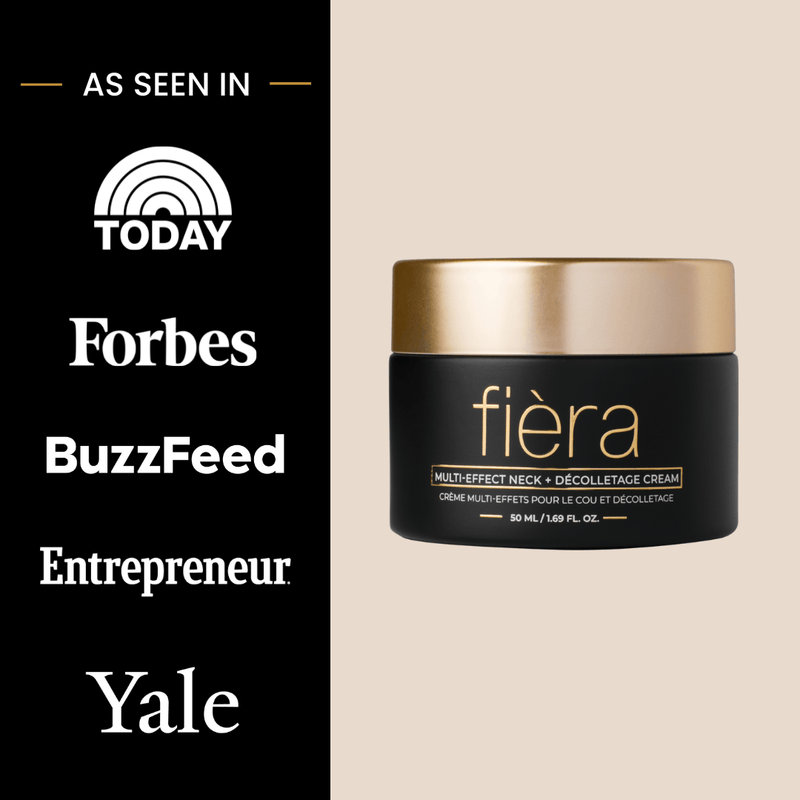 Formulated in the USA

Non
GMO

Cruelty
Free

Paraben
Free
THE FIÈRA DIFFERENCE
Skincare that actually works for mature skin, because it was designed for mature skin.
If as you've gotten older, you've also grown more skeptical about skincare, especially for a textured type of skin, you're not alone and you're certainly not crazy.
Many "mass market" beauty brands put revenue before results. They promote a generic "one-formula-fits-all-ages'' cosmetics line that unfortunately over promises and under delivers.
That's because mature skin requires a different formula than a 20-something. A cream that absorbs quickly on smooth youthful skin, might feel thick, greasy, and sit atop textured skin. Not all creams are created equal, no matter how big the brand is. Fièra's Multi-Effect Neck + Décolletage Cream works because it was designed for and tested on women over 40.
Mature skin doesn't have to look "mature" anymore.
* Results may vary and are Dependant on a variety of factors
SMOOTH & BEAUTIFUL RESULTS
Trusted and used by more than 225,000 women worldwide!
Patricia Verified Buyer
A small amount of this cream, applied day and night to the neck shows visible improvement in neck skin within a month. Very happy with this cream as so far, it's the only thing that has really worked. I can actually see the years coming off my neck skin and that was very important to me.
Joan C Verified Buyer
I was a bit skeptical at first, but after about a week of using this product I did notice a change in the appearance of my neck. The skin is more firm and less sagging, I didn't think it would work but it really does! I'm glad I gave this a try.
Juliie R. Verified Buyer
I have tried many neck creams in the past 30 years (I didn't start caring for my skin until I was 39). Not one of them works like Fiera Multi-Effect Neck + Décolletage Cream! My neck is so much firmer and my skin is smooth!!

`

YOUR NECK NEEDS MORE THAN JUST
A GENERIC MOISTURIZER

Use a cream specifically formulated for the thin, delicate skin of the neck.
Science Proves Your Neck Skin Is Different
Your Neck Skin Is Thinner: Like your eyelids, the dermis covering your neck is more thin, delicate, and susceptible to sun damage, wrinkles, and sagging. The lack of thickness means that if we "neglect the neck", the signs of aging quickly appear and let the world know.
Your Neck Skin Dries Easier: Your neck contains fewer sebaceous oil glands than the face. While the face can have too much oil, our neck doesn't have close to enough and dries faster than any other area. Oil naturally helps to hydrate, preserve, and protect our skin.
Your Neck Skin Ages Faster: Your neck skin has less collagen, and loses more every year. Less collagen causes your neck to become "stretchy", sag, and age faster. That's why some women say their neck and décolletage look ten years older than their face.
As a breakthrough "3 in 1" solution for mature skin, Fiera's Multi-Effect Neck + Decolletage Cream works to visibly reduce the sings of aging and stimulate healthy looking skin
Because it's not just about looking younger, but looking younger
GENERIC MASS MARKET MOISTURIZERS
VS FIÈRA'S WOMEN OVER 40 NECK + DÉCOLLETAGE CREAM
Generic Mass Market
"All Ages" Moisturizers
Fièra's first-ever
Over 40 Neck + Décolletage Cream
Ingredients
Mass market

No anti-aging ingredients, often just a moisturizer
Fièra Neck + Decolletage Cream

Noticeably improves the look of droopy jowls, lines and wrinkles, crepey skin and dark spots
Formula
Mass market

Mass market formula made for younger, smoother, "wrinkle-free" skin
Fièra Neck + Decolletage Cream

Formulated specifically for 40+ year-old skin that has more texture, dryness, dark spots, or wrinkles
Feel
Mass market

Thick, heavy, and greasy feeling formula
Fièra Neck + Decolletage Cream

Feels light and leaves skin glowing and radiant
Absorption
Mass market

Absorbs slow on textured, mature skin
Fièra Neck + Decolletage Cream

Absorbs instantly and "plumps the skin" so your makeup goes on flawlessly
Fragrance
Mass market

Overwhelmingly strong fragrance
Fièra Neck + Decolletage Cream

Gentle and fragrance-free
Anti-Aging
Mass market

Only hydrates but doesn't lift, tighten, or firm
Fièra Neck + Decolletage Cream

Potent anti-aging ingredients which visibly tighten, firm, and lift saggy skin.
Gentleness
Mass market

Chemical additives which can cause reaction
Fièra Neck + Decolletage Cream

Natural ingredients and paraben-free
How to use /
tips & tricks
Step 1:
WASH & PREP
For best results and maximum moisture retention, apply to a washed and clean area morning and night. This allows the neck cream to be absorbed even faster. If using a serum, like our antioxidant Citrus Stem Cell Serum, apply that first and allow one minute for it to absorb.
Step 2:
Gently Apply
Gently apply a pearl-sized amount onto the neck and décolleté in a circular motion. This is a premium product so while it's not thick or greasy, a little does go a long way.
Step 3:
Put On Concealer
This neck cream absorbs and dries quickly. So if you're using a concealer, like our highly-pigmented Luxury Concealer to cover dark spots or wrinkles on your neck, apply that a minute or two after the cream has absorbed (and after SPF if using that as well!). With newly hydrated, smooth, plump skin now underneath, your concealer goes on flawlessly and your neck looks youthful again.
Step 4:
Enjoy Ageless Beauty
Go about your day knowing you're correcting the visible signs of aging and keeping your skin healthy over time. Enjoy ageless beauty and all the "you look so good!" compliments.
Active skin care ingredients
Scientifically proven
ingredients for tighter, brighter, and
younger-looking skin…
Exfoliate & visibly brighten

Glycolic Acid

This powerful plant-based exfoliator gently dissolves dead skin cells, oils, and impurities. This exposes fresh, tight, new skin cells that are noticeably brighter, healthier, and firmer.

Plump & firm

Squalane

After the age of 20, we start losing collagen. Squalane helps visibly plump and firm your neck skin while visibly reducing wrinkles and fine lines.

Hydrate & tighten

Hyaluronic Acid

This "super moisturizer" attracts up to 1000x its weight in water! Which means maximum hydration and tighter, firmer, more healthy looking skin.

Soothe & Detoxify

Willow Bark Extract

Willow bark extract provides a soothing sensation and leaves your skin feeling rejuvinated, radiant and with an even looking tone.

Smooth & soften

Shea Butter

High in fatty acids, shea butter has both soothing and anti-aging properties. It makes rough, textured, mature skin feel smooth and silky soft while also reducing visible signs of aging.

Protect & preserve

Green Tea Extract

Green tea extract helps protect your skin and preserve its important barriers, helping you look younger and refreshed.

Lift & Sculpt

Glycosaminoglycans

This water-binding molecule helps lift and put the "bounce" back into droopy or dull skin.

Visibly Restore

Vitamin E

Vitamin E is an antioxidant shown to have major benefits for skin health and helps boost a youthful looking complexion.
View All Ingredients
Fièra Multi-Effect Neck + Décolletage Cream
X
Aqua/Water/Eau, Stearic Acid, Cetyl Alcohol, Isopropyl Myristate, Macadamia Ternifolia Seed Oil, Caprylic/Capric Triglyceride, Glycerin, Propylene Glycol, Leontopodium Alpinum Callus Culture Extract, Xanthan Gum , Citric Acid, Glyceryl Stearate, Magnesium Aluminum Silicate, Titanium Dioxide, Polysorbate 20, Gluconolactone, Sodium Benzoate, Calcium Gluconate, Sodium Hyaluronate, Butyrospermum Parkii (Shea) Butter, Tocopheryl Acetate.
HOW FIÈRA MULTI-EFFECT NECK
+ DÉCOLLETAGE CREAM WORKS
Phase 1:
Tightness you can see
Many customers say within just two weeks of twice daily use they can see a visibly noticeable difference in the tightness around their neck, chin, and chest area.
Phase 2:
Fade away the appearance of wrinkles and fine lines
As you exfoliate dry and dull skin, you reveal new, healthier, more hydrated cells. These tighter, younger, healthier cells reduce the appearance of wrinkles, fine lines, and creepy skin.
Phase 3:
Softness you can feel
Each application restores your skin's natural nutrients. Your neck will have a rejuvenated softness you can see and feel.
Phase 4:
Look younger longer
What seems like magic is just the modern miracle of skincare science. Using clinically-proven ingredients daily, you correct the visible signs of aging and keep your skin looking younger longer.
OUR RECOMMENDED ESSENTIALS
Shop Fièra essentials. Browse our collection of best selling luxury products.
What Our
Customers Say
Here is what our customers had to say
about Fièra Products.